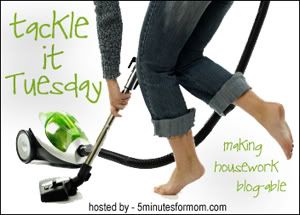 I haven't told very many people and have said virtually nothing about this on twitter/facebook, but we moved recently. Over Christmas to be exact.

I finally have some real space and my husband and I have separate offices. My office needs lots of work.

I need to purchase a desk for it and get it all decorated. I detest the wall paper that the previous owners had. I detest wallpaper in general. However, the 1980's style wallpaper can stay for a little bit considering I need to simply get the boxes unpacked. Also - being able to walk through the room would be nice too. Presently, there is NO walking path through the room.



Before:


See how scary this room is? This is my current Tackle it Tuesday Project.
After spending an hour in there with one box full of trash and another full of stuff to be dispersed in other places throughout the house:
I still don't have a desk picked out yet because what I really want is WAY too expensive so I think I am going to con my husband into building me a desk :-)
What room is your problem area in your home? Discuss.